Zheng Yue Enterprise Co, Ltd.-- Daytime running light (DRL), LED lights, warning lights, touch switches etc.
Johnny Hsieh, general manager of  Zheng Yue Enterprise Co., Ltd. is an innovative man with a head full of ideas which he strives to turn into innovative, functional auto parts and accessories using his store of professional know-how. At 2014 Taipei AMPA, Zheng Yue's booth attracted the enthusiastic attention of international buyers to its displays of well-designed, high-quality electronic and electrical parts.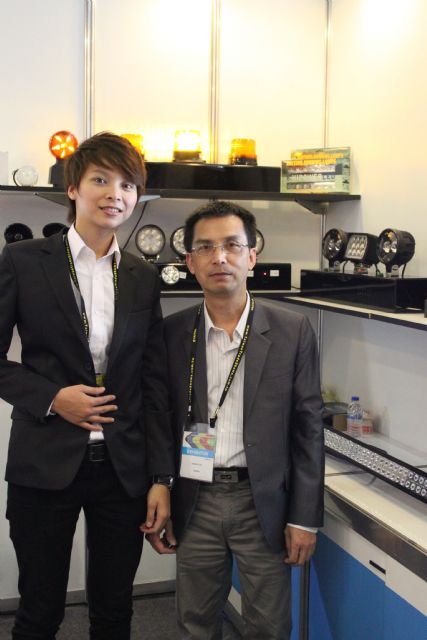 Zheng Yue chairman Johnny Hsieh (right) with his company's innovative products.


With more than 20 years of experience, Zheng Yue specializes in developing and making high-quality electrical accessories for transportation vehicles. The company is constantly engaged in a spate of new-product development projects enabling it to offer an unending stream of new automotive items, such as daytime running lights (DRLs), which feature a wide range of patterns and modified/upgraded functions.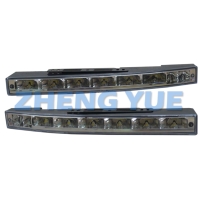 The firm never falters in its effort to make its vehicle lighting products better and better by such means as adopting top-level high-power LEDs, developing water-proof and humidity-free functions, and using well-designed lamp reflectors.

In addition to the various categories of products showcased at his booth, Wu demonstrated a very innovative item that is likely to be popular in the future market. Wu explained that the new product is a universal-type fog lamp which can be easily installed by ordinary consumers on their vehicles' front bumpers and are perfect matches for the original bumper designs.

Zheng Yue stresses that it is a customer-oriented company with leader-of-the-pack development and manufacturing capabilities that can fully meet the diverse requirements of its customers. The firm assures satisfactory pre- and after-sales services, superior product quality, and prompt delivery. It welcomes ODM projects, and declares that its prices will always be competitive.

Wu claims that the high quality and innovative nature of his products make them very popular in European market, especially Germany.